CUSTOMER TESTIMONIALS
Below is a sampling of letters and email we've received from some of our very happy customers!
Also, a travel log of photos of the summer tour by one of our customers in 2018. From Arizona to Anchorage and back. Click here: 2018 TOUR


********************************************************************************
The RV caravan tour I took with Alaskan Discovery RV Tours was the trip of a lifetime. The wagonmaster, Spike Fortier, is an Alaskan professional. With the ever-present narration, new friendships and the security a caravan brings, he showed us the best of Alaska, THE LAST FRONTIER.
Jeanne Paddison-Tidy
(Presidential Award Recipient)
********************************************************************************
Spike, we had the time of our lives. As you know John was a bit unsure about taking at "caravan" but after 35 days with you is convinced that a caravan is the only way to go. As long as you are the wagon master! You are the BEST. I can't tell you how many times I reached for the radio on the way home when I wanted to know what something was. I missed having you right there with all the answers. You shared with us all the best places to eat, shop, and down right enjoy the true Alaska as only a true Alaskan can. We also miss your Sunday prayer meetings along some of the most beautiful highways know to man.
Roger and Stef were also great to have along. How would we ever park our rigs without Stef there go guide us along and what would happen if we had a flat without Roger there to help. All in all, our trip with Alaskan Discovery RV Tours was without a doubt our trip of a lifetime. For this we thank you. It would not have been the same without you at the helm.
John & Susan
Trip 2
*********************************************************************************
Dear Spike and Lindy,
I hope that I can relay the way I feel about our tour this year. Brenda and I have had the most rewarding experience of our lives. As I said in our first orientation meeting, Brenda and I are not new comers when it comes to traveling and visiting beautiful places. We did it for 10 years, going from coast to coast and all in between including Canada, and Nova Scotia. This truly has surpassed all the other trips. Not that Alaska is more beautiful than most of the places we have been, but you and Lindy made it so.
Brenda said she talked to you, Spike, and told you how much she and I enjoyed your oral narration from the beginning, and now through the return tapes. She mentioned you sometimes wondered if it was really enjoyed that well. I know I can only speak for myself and Brenda, but we thoroughly enjoyed those narrative explanations of rock formations, mountains, rivers, Natives, Totem poles, and so many more things that I couldn't remember and had to ask again.
You provide a service that can't be bought, only lived. And on that note, let me say that you and Lindy give something no other tour group even offers and that is a genuine love of others no matter where you're from, or your economic status. You really touched my heart the way you lead by example in your works and your deeds. God bless you and Lindy for the love you show to everyone.
Thank you again for the best time of our lives.
Your friends forever,
Joel & Brenda Scalf
********************************************************************************
Hey Spike,
Thanks you for your Christmas dance.... so entertaining and just what we would expect of you and your gang!
We know you get tons of email and thanks etc. but we want to once again, thank you.......
We want to tell you that your Alaska tour was more than we could have ever, ever hoped for and we recognize it is you who is at the heart of all these tours. Of course, like everyone else who believes their tour was the best as they tagged along behind you on the Alaska Highway, we believe our '04 tour was the fabulous!
Spike, YOU have the gift to touch folks' hearts and souls. I remember like it was yesterday.... it was the very best 'church' experience I have ever attended! It was on a hot day [100 degrees was the high] in Skagway, sitting in our folding chairs, under a huge tree, with our beloved dogs, whom you personally invited to attend. You smiled but didn't bat an eye when our Skeeter barked a suggestion. I don't recall exactly the words that were said but those moments touched my heart and soul. My brain can take me back to that joyful place in time like it was yesterday, as happens with so many other experiences shared with you!!
We are from California and knew that during the tour, we would meet travelers from other states. However, we did not realize they would become so close. Even after all these years, we continue to cherish that circle of friends, who we keep close in our hearts even though they live in Illinois, Texas, New York, Florida, Wisconsin, Tennessee and New Mexico.
So sorry we had to cancel coming to the rally this year, but know all in attendance will have a grand time. For those who are yet to follow you on the 'Trip of a Lifetime,' we envy you!
I don't know if you will read this at the rally as it may seem you are tooting your own horn, but if we were there, I would read it aloud and you know I would. Anyway, we want YOU to know what a joyous and wonderful impact your have made in our lives! We thank you more than our words can say!!
Dave & Rose Marie Taylor
********************************************************************************
Hi Spike!
We are almost back in Texas, and I finally have some time to send you a
note. There really are not any words to fully express my thanks, and my joy
at what you gave me on this adventure. Tears still come to my eyes as I try
to write this, and a month almost has gone by. I always felt drawn to
Alaska, but I could never make it happen on my own. You provided me with the
greatest adventure of my life so far! I didn't just SEE the North, I
EXPERIENCED it thanks to YOU! You gave me knowledge, and an education of
the area, the customs, the people, the land, the smells, the sounds, the
waters, the.mountains, the tundra, the foliage, the geology, and so much
more than I ever dreamed I would find. When people ask me what was my
favorite part of my trip, at first I couldn't pick a favorite. But now, I
realize and tell them, my favorite part of this trip was you! Without you,
and your wisdom and knowledge, it would have been a great beautiful trip,
but you made it a life changing experience for me. I love that you gave us
so much of your love for the people and the history and customs. I have a
first hand knowledge and love and appreciation for mushers, for gold
panning, for all those that have created and made Alaska and the Yukon what
is is. I love the Yukon and all it represents, and I never even knew that it
existed really. I know that this was a job for you, and we were clients. But
you matter to me so very much, and I want you to know that my heart is full
of gratitude and love for sharing so much of yourself with us. You touched
my soul, and my heart, and I thank you! You gave me a great gift and its one
that ranks up there with Santa in events that changed me and made me a
better person. I look so forward to seeing you again, and enjoying your
spirit! Save travels to you, and much love. Connie Travis
*******************************************************************************
I would (and have) recommended this 'Tour of a Lifetime' to everyone who has the chance to go. It was just FANTASTIC, much more than we ever expected. - Spike was a great wagonmaster who is well-known and respected by everyone, everywhere we stopped, along our journey through BC, Yukon and Alaska.. He is very knowledgeable and a kind-hearted, gentleman.
Our 15 rigs were hooked up to the same cb channel during our journey...Spike would narrate to all of us as we started out each day and would point out things along the way...like 'Moose to your right' or truck coming from behind, pull over and let him get thru' or simply showing us 'permafrost forests' along the way. We learned so much from him...He also would direct us to the cheapest gas stations and where to get the best food..Believe me, he never steered us wrong! We dream of eating another of the 'World's largest cinnamon buns'..and it sure was.... (dinner plate size!)
We went on Tour 3 last year...This was nice because we got to see the bears in Hyder AK actually grabbing salmon out of the river...just incredible (and Spike knew just the right time of day (dawn & dusk) to be able to see them). We didn't have a problem with mosquitoes or flies either, as we expected....it was very warm and dry for our trip. We found a lot of bargains in the shops on Tour 3 also, since the end of August; beginning of Sept. most stores are getting ready to close shop for the winter. We purchased salmon half price at one of Spike's favorite seafood markets so we were able to bring a lot home in our cooler. As far as Tour 1 and 2, I would suggest checking his website to see what would be different. We would go on Tour 3 again next time.....
We did not tow a vehicle...really didn't need to.. A few times Spike would ask people who had a car to share with us and others who did not two one, so we would carpool to the top of Salmon Glacier, a road where rv's could not possibly go...also, we carpooled to a couple of shows and casino....and also for dinners, farmers markets and city tours, etc. This was nice too, because we really got to know the people we would ride with. Our group of people were so nice, we all got along great and to this day, we all email and keep in touch, hoping to do the trip again in a couple of years..None of us knew each other until we met at Hazelton...and now we have friends all over the USA. I just wish I had brought a better camera with us, one that has a nice telephoto lens. Ours was digital, and took great pictures, but others in our group got the better shots of bears up -close and moose.. They were nice to share those close-ups with us, though.
You will not be disappointed. Spike's tour is very well organized and he is a 'professional' and is proud of what he does. We talked to other caravan people along our trip and most of them said their wagonmaster gave them a map, split the group in two and said, 'have fun, will meet you tonight'...Our wagonmaster, Spike, was ALWAYS with us, as well as our tailgunners...great people..
Good luck in making your decisions. Whatever you decide, have a good time. I hope I have been helpful, and feel free to contact us again for further questions...
Sincerely, Barb (and Dan) Burgmaster
P.S. we live in Rochester NY...so we drove from here toward Chicago, WI, MN, ND into Saskatchewan then straight West toward Jasper, Alberta, where we stayed a couple of days before heading to the starting point at Hazelton. We took our time, drove only about 300-400 miles per day, enjoying the sites along the way. We were glad we arrived 3 days ahead of time to meet people and prepare for the Tour..we were not rushed. Some people arrived a couple of days after we did and wished they had come earlier.
********************************************************************************
Dear Fellow RV'ers
Yes, Yes, 1000 times Yes!!! Go with Spike to Alaska. We traveled from Northern West Virginia to Washington in six days--visited with relatives and then went on from there. We stopped each day to tour something and enjoy the scenery. We spent an extra night in SD to see Crazy Horse and tour the cultural center there plus Mt Rushmore. It took us three or four days to reach the Indian Village from Seattle. We came home from Kenai across the Alaskan Highway and down through Montana and back to WV in 9 or 10 days. I think the June 27th trip is ideal--that way you get to celebrate the 4th of July in Skagway which is great fun. We are tempted to tailgun for Spike in a year or so. Have not made up our mind yet due to family vacation conflicts. He's one great guy with a heart of gold!!!! Traveling with Spike was one of the most wonderful trips we have ever taken--and we have been to Egypt, Australia, etc. We were traveling with another couple in their big rig on the June 27th Caravan last year (2004-trip 2) to share expenses and save on gas. Our brand new 5th wheel stayed at home waiting for us--we've used it several times now and love it. We liked traveling in the motor coach and pulled a Cavalier. It is not necessary to have a tow car because Spike and others will help transport you. You become close friends on the Caravan--one big, happy family. This is assuming you have a good sense of humor and lots of patience. They do lots of fun skits and teasing at get-togethers! Also, sometimes forest fires and roads test your patience. We loved every inch of Alaska and hope to go back once in the winter and once more in the summer. Our ages are 62 and 65.
Get ready for the trip of a lifetime---GO FOR IT!!!
Sincerely,
Max and Laura Garlitz who were traveling with Judy and Charles Shaffer (who do not have e-mail--sorry)
********************************************************************************
Hello Spike & Lindy
We finally made it home on Monday afternoon. We were gone a total of 98 days and we drove a total of 14,260 miles from start to finish.
I think it's incredible that we did all of that without any problems. We thoroughly enjoyed everything that we saw and did on the way to the starting point; especially the great 34 day tour; the Special friendships that we made with all of you; and the trip back to Texas.
On the way back we traveled with Andy June; and "Plain ole Larry" and Karen and we saw Clyde and Betty and Vivian Gary and in northern California we saw Richard and Charlotte (moosey, moosey, moosey). We really enjoyed those extended relationships.
...... It was quite a journey and we thoroughly enjoyed the tour. Thank you for providing such a great tour; for being so knowledgeable; and for the lasting memories that we will have. Feel free to use our email address for future references that prospective tour members might request.

Stay in touch, David & Minka & Elvis dog (Jesse)
********************************************************************************
We had a great time during the Caravan Tour...it was an experience of a lifetime and we especially enjoyed our Guide "Spike" and staff and our traveling companions.
We stayed 3 more nights in Kenai and Gino met with his friend from his "wild days". And it really was exciting for them both...they fished and reminisced and just had a ball. I was able to visit with a friend who lives in our development in Nevada, but spends the summers in her place along the Kenai River...so that was fun.
We then headed to Valdez, where we encountered Larry and Margaret as they headed out of Valdez and Katina and Nick...we all noticed each others "Alaska Tour" signs and turned on our CB's right away and was able to visit for a short time. Once we were in Valdez, we went looking for Chet & Ellen, and Lynna, Bob, and Alex...can't miss the RV's with the orange signs, but they were not there, so we left a note, and that evening they all came by our campsite at another campground and for a visit. So fun to hookup after the tour...
The next day Newell & Marie came to our campground and we camped together another night and then we both headed off together for Hyder. Spent a night at Glennallen and then 2 nights at Whitehorse...Ate at Chet & Chris's and Clo and Doug's restaurant they enjoyed two times while in Whitehorse...it was good....After Whitehorse, headed to the gravel/dirt road to Hyder. Stopped at Jade City and spend the night there...they have a free campground..then off to Hyder...we were trying to get there before Spike and gang got there with tour 3.. We got to Hyder and stayed 2 nights at camp run-a-muck...(made reservations) We ate at the SeaAlaska where we had the halibut casseroles with Spike previously and Clo and Doug and Newell and Marie got hyderized...was good, but I was kind of getting halibut overdose. We tried the bakery/pizza restaurant where Spike got our sticky buns and had very good pizza...
The afternoon Spike and tour was due in we put on our yellow jackets and hid until they had their group meeting at camp run-a-muck. Marie and I sat next to some of the ladies in tour 3 and Newell and Gino stood behind Spike...I think Danny tipped him off, but he was really surprised...he introduced us and it was sure great to see them all. Roger went with us to dinner that night at the SeaAlaska restaurant...We left Hyder, reluctantly, Gino had "Bear Fever", he had to keep going back to the viewing stand...Did see about 7 bear and loved it.
We are planning to go to the Jan 06 rally in Florida....I hope you will all be there...we have a bond now and we would love to see you all again...take care, be good, stay out of trouble, and most of all, please keep in touch...I hope our paths can cross again...
Miss you all, Ethel & Gino
********************************************************************************
We had already had a wonderful trip and met many wonderful and neat people and Spike did an incredible job leading the tour and we will recommend his tour to anyone who plans on going to Alaska.
Like Ethel and Gino, we also plan on trying to attend the rally in January, and hope to see lots of others from our group there also.
Everyone take care and keep in touch and to those that I promised copies of my poem I promise to get it to you as soon as I can.
We went back to work last Tuesday and have been busy since.
Oh, as for my Bells Palsy, it's getting better each day I believe and I have an appt. with my dr. next Thurs. so I will keep all informed about that also. Thanks for all the prayers and concerns while on the trip and for all prayers even now.
The Texas Two - Marie & Newell Sartain
********************************************************************************
Hi Spike and Lindy,
How is everything going with the two of you? What exciting adventure are you doing now?
We are back to reality and it has really been hectic. We have Alex back in school. Alfred or Seymore as he was known in his past life is doing just great! Alex is doing well also.
I can tell you that we are still in the "afterglow" of our Alaska adventure. So many people want to see our pictures and hear all about it. What a marvelous opportunity it was for us and thank you so much for how wonderful you made it for us!!
Chuck and Ellen are coming over next Sunday night for dinner so we can go over some pictures and just "relive" our great experience.
I am working on my Alaska pictures and there are some on your website for tour 2 that I would like to have. I have not been able to download them or even just print them off of the website. Is there any possible way I could get a disk with those pictures on it.
I hope all is well with you and we plan to see you in January.
Sincerely
Lynna and Bob Schauer and Alex too.
********************************************************************************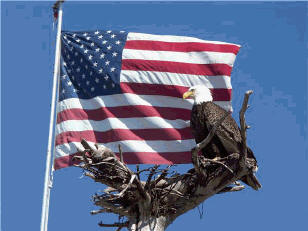 Spike,
This is the picture that Kerry took while we were camped in Homer in June. He just kept getting closer and closer until the flag and the eagle went into the frame like this.
We would like to thank you for such a wonderful trip last spring. It was way more than we expected and we would never have done or learned near the things you presented to us. We'd love to go back there but it sure won't be the same without your guidance. We praise your Tour anytime someone asks us how our trip to Alaska was.
Thanks again.
Kerry & Joyce Taylor
********************************************************************************
Greetings Spike!!
Got home Thursday. Finally got the computer unloaded this afternoon and was going to download the tour two pics but they don't seem to be where I expected them.
Also want to thank you, Spike for enabling a very life enhancing experience this summer, in so many ways. None of it really belongs in an email but at some point after I sort it out maybe we can talk. At any rate, I really appreciate your input in my life.
Thank you so much,
Beth
********************************************************************************
There are so many wonderful memories from our time together. Now that we are on our own, we are missing everyone terribly and we talk of you often.

Traveling mercies to all.
Larry and Karen
********************************************************************************
Hi, we are Jim and Joyce Tiedeman. We live in Sauk City, WI and have been on 3 tours to Alaska with Gilbert Fortier - first in 1999, and again in 2002 and 2004 as tailgunners for Gilbert. In 1999, we were on the first tour which started the first part of May. In 2002 and 2004, we were on the third tour and that is the one that we enjoyed the most. The weather is good, the flowers are beautiful, there aren't as many people as during the middle of the summer, there are more animals and fishing is good.
Gilbert is a great guide, very friendly and extremely knowledgeable about B.C., the Yukon and Alaska. If you go on a tour with him, you will know more about these areas and see more attractions than most of the natives. While you do not have to do all the things that are on his itinerary, most of his customers do as they may never have the opportunity again. He knows where to shop for the best bargains, where to buy the most reasonable fuel and the best cinnamon rolls. Gilbert keeps his groups small so you get to know and enjoy all the other travelers. We have become friends with many of the people we've met on the tours and have visited them at their homes and keep in touch by e-mail.
Jim & Joyce Tiedeman
********************************************************************************
I wish I had the time to tell you how much we, my wife and I, enjoyed our caravan. We would go back in a heart beat. We have a motorhome and we tow a Chevrolet Tracker four wheels down. At the time we went we could have gotten along without the tow while we were on the caravan, but it would have been inconvenient especially on the way out and on the way back. At the time we went, Spike had a van in which he could transport those who did not have a tow vehicle. Don't know if he still does this or not.
As to whether we would recommend it? Yes we have had four couples go with Spike since we went and all four came back extremely satisfied!!
As to hidden costs: What we liked about RV Alaskan Discovery Tours was that it is unlike any of the other caravans in that it is a la cart. You pay Spike the guide fee he states in his information; and he requires the campground fees to be paid up front; and if you are planning to take the nature trip at Denali NP you pay for that also so he can secure the tickets and reserve a place for you when you arrive at the park. Other than that you pay for the attractions as you come to them. And if you choose to skip one or more of them, you can do so and you don't lose any money as you would on other caravans.
As to the time to go - the early trip experiences colder, wetter weather as a rule, but see more wildlife, especially young. The last trip you see bears due to the fact that the salmon are running later in the summer. We took the middle trip which afforded us the best weather, but less wildlife. We saw lots of wild flowers and some wildlife.
I am sure that it would be pleasant to travel to the beginning of the caravan with friends, but we never felt insecure or unsafe traveling alone. We spent two months traveling to the caravan beginning point; and two months after the caravan concluded, partly in Alaska and also several weeks coming home. We met individuals traveling to the caravan in Banff and went the remainder of the way with them.
The number of rigs taking each caravan is limited. This is a plus. We have had friends who did this trip with huge caravans (33 rigs) and all they did was wait on each other. Spike's caravans travel together and he points out over the CB radio things of interest and helps with road conditions as you approach them. We strongly believe that this is a real advantage over other caravans who sort of turn you loose and expect you to get to the next point on your own. There are two breaks each day - morning and afternoon - as well as a lunch break. Most times these are at locations where food can be purchased or eaten in your rig.
As to "hidden costs" - we had some "bean counters" on the caravan with us who reported at the end that the expenses predicted were right on target. Of course, you must figure in your personal costs for gifts, extra food costs according to your eating habits etc. Fuel was almost exactly what he predicted it would be. In the year we went, the fuel in Alaska was exactly what we had paid in Florida before leaving.
The fact that Spike lives in Alaska and obviously loves it is a real plus in our opinion. The small caravans are also a plus. You are NEVER left alone. If a rig experiences problems, the tail gunner is left with you.
Hope to see you in Kissimmee, Florida at the Rally,
Joel & Carolyn Laney
********************************************************************************
The trip to Alaska was very special to us. We had always wanted to go. But
now the trip is even more special because we have made some friendships that
we want to carry with us for the future. God Bless Each of You, and I hope
your lives have been enriched as ours have.

Larry & Alice

Larry & Alice Collins

********************************************************************************
We went to Alaska by RV in May 2001 and it was one of the greatest trips of our lives. We are still close to our fellow RVers we met on the trip. The owner of the company is also the guide. He only takes three tours a year between mid-May and early Sep.
The trips start in Hazelton, BC and end in Kenai, AK. You get home on your own. We did a side trip on the way back to Valdez and also took a tour out of Anchorage to Kotzabu and Nome, just so we could say we crossed the Arctic Circle. The last was a two day deal and we left the RV at a park in Anchorage, because we flew out of Anchorage airport.
The tour company name is Alaskan Discovery RV Tours, LTD and the owner/guide is Gilbert "Spike" Fortier. His web site is www.rvalaskatours.com, his e-mail address is spikealaska@earthlink.net and his phone is (800) 842-7764. His web site should give you a good overview of how his tour works and approximate costs. He only charges the guide fee and you pay for everything else directly. The nice thing about this is that if you don't want to go to a particular show, dinner, or outing, you haven't prepaid for it and feel you need to get your money's worth.
Spike is a great guy and since he owns property in Alaska, he knows the state and loves to show it to off. If you need more info, just give him a call. He would love to hear from you.
Linda and Larry Troutman
****************************************************************************************